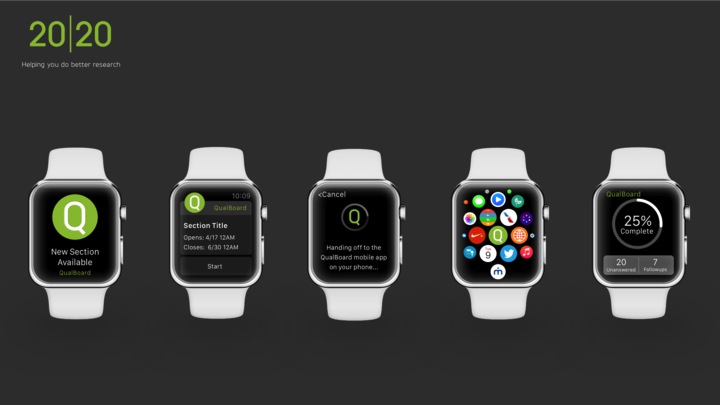 First wearable app in marketing research expands the limits on information that can be gained in a study
Harnessing the power and flair of the recently launched Apple Watch, global research technology and service company 20|20 Research today announced an Apple Watch companion app for the company's QualBoard® Mobile™ platform.
The new product extension marks the first wearable app for qualitative and one of the first wearable technologies specifically designed for the marketing research industry.
Released as a free update to all research participants who download the QualBoard Mobile iOS application, the app should increase engagement in mobile qualitative research studies, thanks to reminders and push notifications driven to the watch wearer. Using Apple's proprietary "Handoff" feature, Apple Watch users can simply touch the notifications sent to their wrist to respond to survey questions via the QualBoard Mobile application.
"We fully expect that wearables will become a key method by which brands in the future talk with consumers," said Isaac Rogers, chief innovation officer for 20|20 Research. "And we believe respondents will be using the Apple Watch technology as a greater convenience in their lives. So, it made sense to harness the technology in a way that increases market research participation, compliance and convenience for both study participants and researchers."
The Apple Watch works in tandem with the iPhone and uses bluetooth technology when the phone is not connected to the internet. Users must be enrolled and active in a QualBoard Mobile study for the app to work. Use of QualBoard Mobile and the Apple Watch companion application are free for all projects on the QualBoard platform.
Information typically displayed on the watch include: follow-ups from moderators, new sections of a research project, the number of unanswered questions and project completion status, which helps users know when to take the next steps in the project.
20|20 is already working on future generations of the app, which are expected to automatically track the wearer's biometric readings (heart rate, motion activity, etc). In the future, 20|20 expects users will also be able to access SIRI voice-to-text to record messages transcribed to text or record ambient environmental sound for research, such as a TV show respondents are watching or a radio program they're listening to.
"The exciting thing about this app is that coupled with the Apple Watch, marketing researchers will be able to capture more behavioral data than ever before," Rogers said. "It used to be that we relied almost exclusively on reported behavior captured days or weeks after a product or brand experience. Now participants will be providing us behavioral data in real time while the app is providing deeper information about the respondent than ever thought possible. We'll be able to tell, for example, if a participant is truly living a healthy lifestyle based on their daily activity and custom tailor our research questions around their observed behavioral patterns."
The company is expecting to release an updated version of the wearable application in the fall, with enhanced features and more on-device capabilities.
About 20│20 Research
20|20 Research is a global leader in the development, support and service of online qualitative market research… and the software and technology that sustains it. Founded in 1986, the company works with market research and advertising firms around the world, with projects in more than 122 countries and 30+ languages. The past three years it has been named one of the most innovative research firms in the world by GreenBook Research Industry Trends, a top arbiter of the market research industry. The firm's operations are headquartered in Nashville and the company additionally maintains traditional focus group facilities in Nashville, Charlotte and Miami and a European office in London, England. www.2020research.com