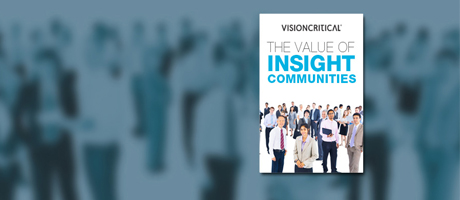 Vision Critical also Ranked 10th Amongst Canadian Software Companies, Listed in Top 250 ICT Companies
Vancouver, CANADA – April 23, 2013 – Vision Critical, the leading provider of insight community technologies, is pleased to announce that it has made the Branham300 list of top five Canadian Software as a Service (SaaS) companies. Ranked fourth in the SaaS category, Vision Critical has also been identified as the 10th top software company and 60th Information and Communication Technology (ICT) company in Canada. Vision Critical is a Vancouver-based technology company providing global businesses and organizations with solutions that enable them to engage with customers for feedback and input on an ongoing basis, which then translate into meaningful business decisions.
Branham Group Inc. is a leading global ICT industry analyst and strategic marketing company, annually ranking Canada's top publically traded and privately held ICT companies based on revenues. Now in its 20th year, the Branham300 illustrates the depth and breadth of innovative technologies offered by Canadian-based companies and the contribution these companies make to the economy both nationally and provincially. The Branham300 list is widely considered to be a leading source of intelligence on Canada's ICT industry.
Listed as fourth in the SaaS category, Vision Critical was identified as having a strong financial position amongst companies whose core competencies lie in the development and/or provision of SaaS solutions and services. Vision Critical came in as number 10 in the software category, which looked at companies with positioning and strategic direction that suggests a businesses' core competency is through the sales of proprietary software applications developed through a company's own research and development activities. The ICT category, where Vision Critical came in at 60 out of a list of 250 companies, looked at businesses with a core competency provisioned on ICT professional services.
"As a fast-growing Canadian based, international technology company, we're happy to have earned a high ranking on the Branham300," said Andrew Reid, founder, president and chief product officer of Vision Critical. "Since Vision Critical's inception in 2000, our insight technologies have advanced with the times to include solutions and services that our customers appreciate. As a result of our ongoing effort to provide innovative technologies, the hard work has quickly paid off and will continue to do so in the future."
Today, Vision Critical works with approximately one in three Fortune 500 companies. The business saw tremendous business growth in 2012, closing the year with approximately $80 million in revenue, about 600 employees and 14 global offices. Additionally, in 2012, Vision Critical raised $20 million in funding from OMERS ventures. The company also appointed Scott Miller as Group CEO and opened multiple offices around the world.
About Vision Critical
Vision Critical is the world's leading provider of insight communities, currently supporting over 650 brands worldwide. We build software and provide comprehensive services that empower organizations to engage groups of customers and stakeholders on a continuous basis for the express purpose of extracting and managing insight to drive better, faster decisions. Learn more about the fastest-growing solution in market intelligence, meet our global partners and view our client stories at www.visioncritical.com. Follow us on Twitter at https://twitter.com/visioncritical.
About the Branham300
For 20 years now, the Branham300 has highlighted the top Canadian and Multinational ICT companies operating in Canada, as ranked by revenues. It illustrates the depth and breadth of innovative technologies developed in Canada and is widely considered to be a leading source of intelligence on Canada's ICT industry.  The Branham300 list consists of the following major categories:
•             Top 250 Canadian ICT Companies
•             The Next 50 Canadian ICT Companies
•             Top 25 ICT Multinational Companies operating in Canada
•             Top 25 Up and Comer ICT Companies (category ranked on innovation/not revenue)
The Branham300 is published annually at www.branham300.com. Keep up to date with the Branham300 and Branham Group on twitter at @branhamgroup, through Branham's Newsletter, or RSS feed.