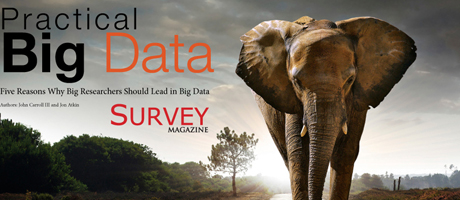 Five Reasons Why Big Researchers Should Lead in Big Data.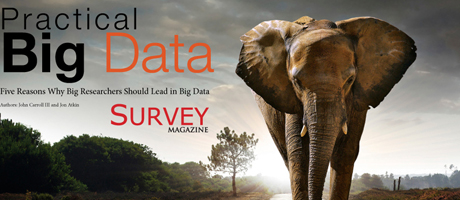 Big Data is getting bigger. The Information Age is chugging on, creating vast swathes of rich data on all facets of private and business life. In its wake, the world is coming to terms with what this means in terms of potential and practicality. This new world offers so much opportunity, in theory.
Is Bigger Better?
Big Researchers, and by that we mean world class modern market research professionals in every size and type of organization, are grappling with the issues and opportunities surrounding Big Data. With humans around the globe rapidly gaining access to the internet, using smart mobile devices, and generally tracking their every step, task and even emotion, the need to tackle Big Data is clearly growing quickly. The potential to marketers and business leaders is just too massive; if not completely clear.
At the same time, the concept of Big Data is likely to soon fall from the "Peak of Inflated Expectation" into the "Trough of Disillusionment" part of the well-worn Gartner hype cycle (exhibit A – see magazine article). This disillusionment is grounded in several reasonable criticisms that Big Data is too unstructured to generate insight, too confusing to guide action, and too expensive to use practically. Big Data incorporates information from some sources which don't fit into the traditional mold of high quality and acceptable research data. Big Data practices aren't comprehensively addressed and guided by formidable market research institutions such as CASRO and ESOMAR. And of course, there are real and significant privacy concerns surrounding Big Data.
Practical Big Data: A Near Term Solution for Big Researchers
Big Researchers need to reject the idea that Big Data is rife with big and unsolvable problems. It's time we move to "The Slope of Enlightenment" where researchers, business executives and government officials capture far greater value from Big Data. It's all to do with practicality.
Here are five practical reasons why Big Researchers should lead in Big Data.