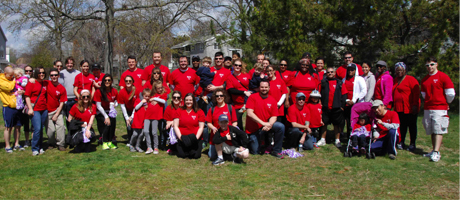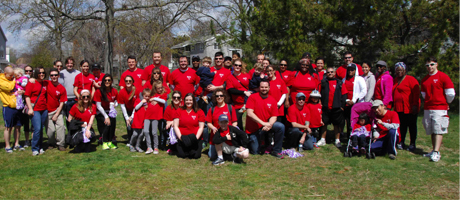 On Sunday, May 4, the March of Dimes Greater Fairfield County Division hosted its March for Babies walkathon to raise money and awareness to help give every baby a healthy start in life.  More than 50 SSI employees, friends and family raised over $6,900 and SSI increased the amount by $3,100 for a total donation of $10,000 for this year's event held at Jennings Beach in Fairfield, Conn.
"It was a fabulous turnout on a gorgeous Sunday," said Philippe Bourdon, a Southington resident and SSI employee who last January was honored with the 2013 Leadership Award for his volunteer work by the March of Dimes.  "I joined SSI eight months ago and as any volunteer would do, solicited its help in funding the mission, hoping for a small donation specifically for the March for Babies event in Fairfield.  I expected something but I wasn't prepared for such an overwhelming response.
"SSI quickly formed a committee to raise awareness, created a Walk Team, spread the word and very quickly raised several thousand dollars through some very caring and generous employees," explained Bourdon.  "SSI's matching donation helped the team double its initial goal of $5,000.  If that isn't impressive enough, more than 50 employees showed up for the walk.  It was a great success and, for a first-year team, a very impressive accomplishment."
Funds raised in the March for Babies support research and programs that help moms have full-term pregnancies and babies begin healthy lives.  Funds will also be used to bring comfort and information to families with a baby in newborn intensive care.
The March of Dimes is the leading nonprofit organization for pregnancy and baby health.  With chapters nationwide and its premier event, March for Babies, the March of Dimes works to improve the health of babies by preventing birth defects, premature birth and infant mortality.
For the latest resources and health information, visit marchofdimes.org and nacersano.org.  To participate in the annual signature fundraising event, visit marchforbabies.org.  For detailed national, state and local perinatal statistics, visit persistats.org.
SSI is the premier global provider of sampling, data collection and data analytic solutions for consumer and business-to-business survey research, reaching respondents in 86 countries via Internet, telephone, mobile/wireless and mixed-access offerings.  SSI staff operates from 25 offices in 18 countries, offering CATI, questionnaire design consultation, programming and hosting, online custom reporting and data processing.  SSI's 3,300 employees serve more than 3,000 clients worldwide.  Visit SSI at www.surveysampling.com.